The new Samsung Galaxy Tab 4 series comes along with many good features to lure in great number of tablet geeks around the world. With a sleek and sturdy design, superb UI and functionalities, and a very reasonable price range, the new tab range from Samsung is already a hit. Let us consider the smallest bother in the new Galaxy Tab 4 series, the 7.0 to see what it has on offer.
Sleek and neat design
The new Samsung Galaxy Tab 4 7.0 comes with a simple, plain and neat design. There is nothing striking in its visual appeal, but with its uncluttered look it appears to be a functional and quality device. It has an overall smooth design that makes it appealing.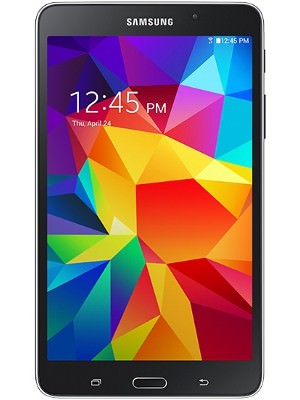 The most appealing part of its design is its textured back panel that offers a premium feel. It has a slim and sleek design with minimal bezel around the screen that further enhances its compact and clean look and makes its screen the only prominent feature at the front.
With its simple, minimalistic and functional design, the entire Samsung Galaxy Tab4 range will be available in two color choices of Black and White in the global markets.
Premium quality strong built
The new Galaxy Tab 4 7.0 offers a great built quality with a real sturdy look and feel. Similar to the entire Samsung Galaxy mobile and tab range, the company again chooses the plastic chassis for this device as well. However, the plastic material does not appear tacky from any angle and only exudes a good premium quality. The device is simply sleek, solid and a very nicely built tablet. No creaks or misalignment has any place in this quality device. The device also features a great a unibody design along with metal binding around the edges which makes for sturdier structural strength. Only the Home button appears to be slightly wobbly on this absolutely solidly built device.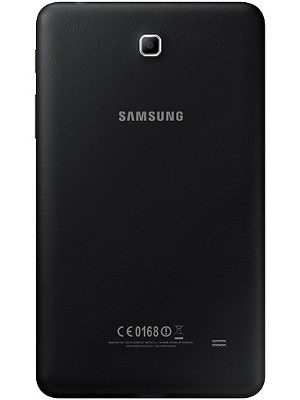 Superb multimedia experience with multi window feature
The new Galaxy Tab4 range comes with an overall good display with a screen ratio  16:10 which offers brilliant viewing angles and an overall quality experience be it playing games or watching videos or reading an E-book.
The range offers the users the cool and functional Multi Window feature, which allows the users to effortlessly switch between various apps and windows. This feature also lets the user to drag and drop any content very easily, thus offering a very satisfying and functional experience.
Average but nice display
The Samsung Galaxy Tab 4 7.0 pack in a very nice, but not a very amazing display. The 7 inch screen features an adequate resolution of 1280 x 800 pixels and the pixel density of 216 ppi is also average. The screen offers pretty and detailed display which lets the users read small text with ease. Fine details may appear to be slightly fuzzy, but at the same time there is also no visible pixilation. It offers good and nice color reproduction as well, though few colors such as red are rather subdued. Thus, the display is not as peppy as was expect from this new tab.
However, the display is nice to look at and work with most of the times except under direct sunlight where the very reflective screen is barely visible. As mentioned above, the display also offers very good viewing angles.
Good Processor, but sluggish performance
Though the new Samsung Galaxy Tab 4 7.0 is a great device from most of the aspects, its performance really lags behind. This performance drawback comes in the form very sluggish and unresponsive behavior sometimes.
This is an unfortunate surprise, as the device has got good overall specs. It packs in a quality quad-core Qualcomm Snapdragon 400 chipset along with a workable 1.5 GB of RAM. While its hardware sounds pretty good, it can sometimes become really slow as the RAM memory starts getting full.
Good Inbuilt Storage
The Samsung Galaxy Tab 4 7.0 is offered in three model variants according to its inbuilt storage capacity, namely in an 8GB, 16GB, and 32 GB variants. Samsung has also offered the flexibility of memory expansion with a microSD card slot.
Very nice and user-friendly Interface
When it comes to UI, the new Galaxy Tab 4 7.0 is an absolute charmer. Samsung introduced this UI first in the Galaxy Tab Pro 12.2 and is really great. It offers a smooth and neat experience and is also overly user friendly.
Great functionality
Samsung acted smartly with this simple task oriented device and let it be what it is, and did not effort to stuff in gesture controls or heavy apps. This has ensured quality enhancement for the device. All the pre-loaded apps feel very nice and smooth.
Expectation exceeding camera
The new Samsung Galaxy Tab 4 7.0's. The primary 3 MP rear camera really offers more than what was actually expected from it. The 1.3 MP secondary, front camera also offers quality video chats.
Samsung has incorporated some cool camera modes also like the Beauty Face, Sound and Shot modes, while the social sharing option is a given thing.
Though the 3MP rear camera is only an average unit with fixed focus, it offers great, crisp images with good detail and nice sharp colors. The lowlight pictures are not bad as well.
Superb battery life
Yet another star performer on the new Samsung Galaxy Tab4 7.0 is the superb battery pack. The device is well expected to give up to 9 hours of usage. This means a whole day of moderate work and play.
Final words
As the Samsung Galaxy Tab4 7.0 is an affordably priced, good device, it should draw ample amount of attention. However, its performance is a hindrance, as it can sometimes become painfully slothful. Nevertheless, as it comes with a big brand name this should not be a problem. The tab really offers lots of plus as well including built quality, good UI, battery life and cameras, all of which make it a great overall package. The Galaxy Tab4's sleek and neat design and functionality also make it a worthy buy.